Students and the House Fellow from Carson House Come Together for Study Hour
After a recent cleanup day at Lake Yosemite and UC Merced's Vernal Pools and Grassland Reserve, students met to discuss the types of trash they cleared away and to think about ways in which they could create a solution to the pollution problem.
"…a large portion of the trash we were picking up was bottle caps," said Emma Gerit. "We figured that this was because when people took the caps off of the bottles, they let them fall straight to the ground instead of catching them and throwing them away in a trash can. So, we thought a solution to this would be to set up a bottle opener so that the caps would fall straight into a trash can. These could be set up on the existing tables or possibly be put on poles we could install. We are hoping to help make these bottle openers a reality in a future project…"
Emma and her fellow students are freshmen who belong to Aristotle House, one of four new academic Living Learning Communities at UC Merced.
Created by the School of Natural Sciences, these four 'Houses' are UC Merced's first academic Living Learning Communities (LLCs) and demonstrate SNS' commitment to providing an inclusive learning environment to its students. These LLCs bring first-year students with common academic interests together through a 1-credit course, activities related to their interests, and by placing them close to one another in on-campus housing. National research demonstrates that LLCs boost student retention, graduation rates, and academic standing in core coursework.
SNS faculty, staff, and students worked together to create these communities, which provide a platform for learning, mentoring, and engagement that takes place within a supportive, student centered living and learning environment. Says LLC academic advisor Jose Martinez, "(We are) creating a culture of care and support. It's not just about (us) uplifting the students but students being uplifted and supported by their fellow students."
The School of Natural Sciences offers four LLCs, termed "Houses," each representing a specific theme:
Aristotle House: Leadership, Education and Service focuses on leadership, education, and service in the natural sciences.
Students in Vaughan House: The Digital Abacus learn how to use computers and algorithmic thinking to simulate scenarios and solve problems in math and science.
As members of Carson House: Sustainable Futures students identify and explore positive roles in interacting with and protecting the environment as well as gain an understanding of sustainability concerns in the Central Valley.
Students who participate in Beyond the MD: Biomedical Sciences and Health Professions learn about biomedical and health-related professions outside the MD track (e.g. physical therapy, dentistry, optometry, etc.).
Each House has a faculty advisor and a "House Fellow," a Ph.D. student who serves as a resident advisor, mentor, program coordinator, and instructor for their students. Students come together to learn and collaborate during House-specific study sessions, service projects, and in the weekly seminars taught by their House Fellow.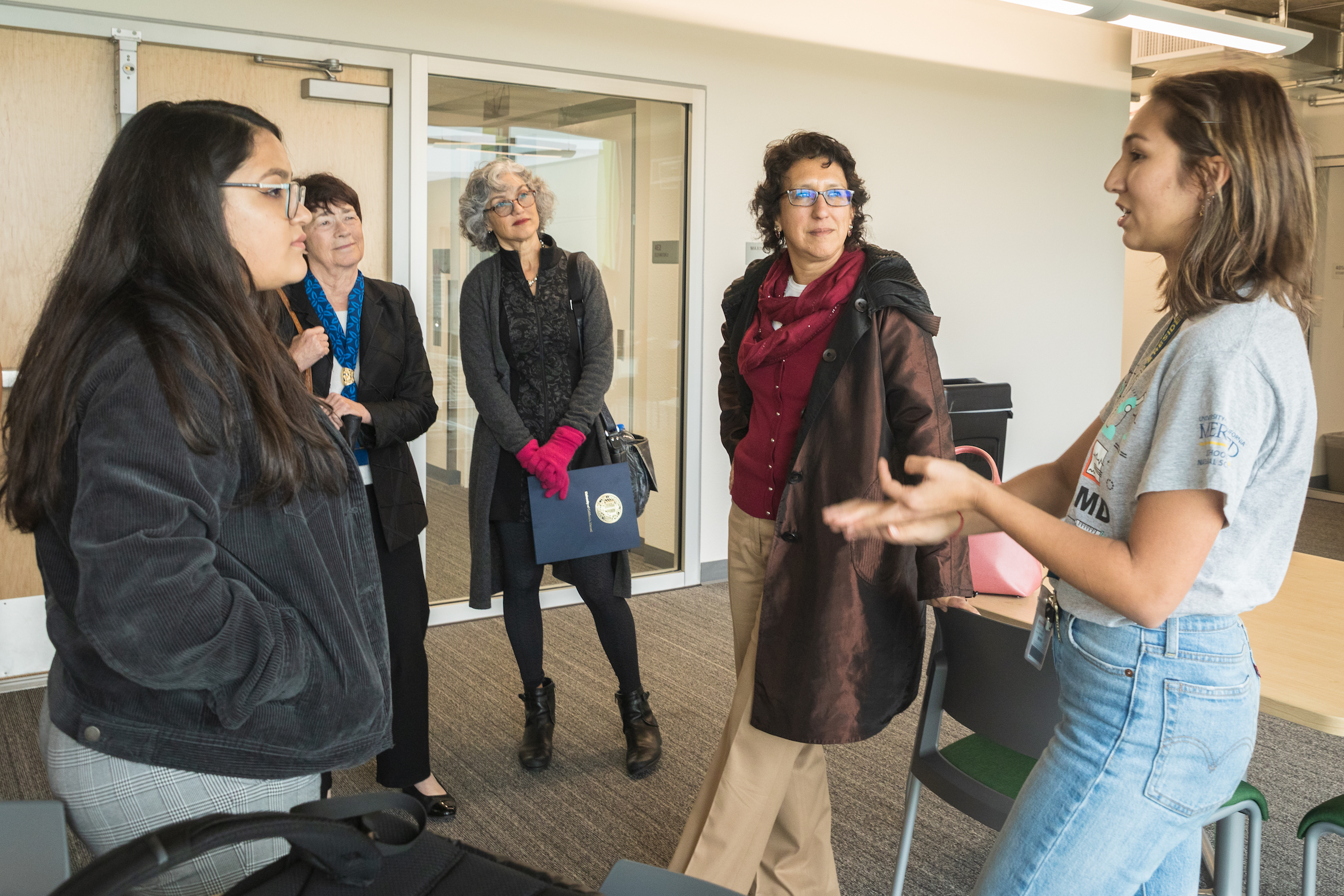 Beyond the MD students meet with Chancellor Leland and UC Regents
During the fall semester, LLC students engaged in a number of different activities: some learned from conservation scientists and collected data from the UC Merced Vernal Pools, some met with the Chancellor and UC Regents to educate them about the community, others attended a pre-health conference at UC Davis, and a few took part in a Yosemite Lake clean-up event that doubled as an opportunity to learn about pollution causes and prevention and an act of service.
Stephanie Ross, a student in Carson House, reports, "(The LLC's have) brought me closer with my peers and taught me how to collaborate with them in tackling today's major issues. Seeing the different communities and different types of people showed me how we can all work together and take advantage of our differences." Aristotle House student Emma Gerit adds, "…. we are learning to develop our leadership skills and are engaged in our UC Merced community. The LLC's give incoming UC Merced students a community to learn and grow in while we adjust to life at college."
SNS Dean Betsy Dumont fostered the creation of the LLCs and is thrilled with their success. "It has been amazing to witness the energy and enthusiasm our faculty, staff, and students have poured into the Living Learning Communities. Creating them was a heavy lift, but it has been a wonderful experience for everyone involved. So much so that we plan to offer them again for next year's incoming class," says Dean Dumont.