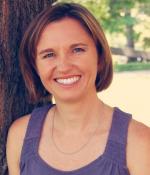 SNS Associate Professor Jessica Blois
Jessica Blois, Associate Professor in SNS' Department of Life and Environmental Sciences, has been studying organisms in the grasslands and vernal pools since she arrived at UC Merced 5 years ago. A paleoecologist, Jessica views the reserve as an extension of her lab and classroom. "I started working with the Vernal Pools and Grasslands Reserve for both teaching and research. I bring students out to the reserve to give them an introduction to natural history and field work."
Jessica was recently named Faculty Director of UC Merced's Vernal Pools and Grassland Reserve which is part of a network of University of California land holdings called the 'Natural Reserve System' (NRS). The NRS is the world's largest university reserve system. Field sites are located throughout California and represent nearly all of the state's diverse ecosystems and various habitats. These sites provide outdoor laboratories and learning experiences for students and faculty alike and are frequented by over 147,000 visitors each year. UC Merced is guardian to two reserve sites: Sierra Nevada Research Station's Yosemite Field Station and Merced Vernal Pools and Grassland Reserve.
As Faculty Director of UC Merced's Natural Reserve Systems, Jessica will work to ensure that our Vernal Pools and Grassland Reserve continues to thrive. She is developing a vision for the reserve and is seeking Natural Reserve System status for the UC Merced/SCICON Field Station. SCICON is a science and conservation program operated by the Tulare County Office of Education. She also aims to raise funds for a field station to be constructed on the Merced Vernal Pools and Grassland Reserve.
UC Merced Vernal Pools
The Vernal Pools and Grassland Reserve is one of the largest intact vernal pool grassland ecosystems in the world. It is the habitat of more than 30 rare and endangered animal species, 25 rare and protected plant species, and 83 species of birds. This unique ecosystem goes beyond classrooms and books to provide students, faculty, researchers, and the community opportunities to research and educate in an entirely unique and natural space directly connected to campus. The Reserve serves and partners with a wide variety of groups and institutions that focus on land stewardship, education, research and preservation.
Fairy Shrimp Inhabit the UC Merced Vernal Pools
In 2018 the State Legislature passed Proposition 68, which dedicates funds to a variety of conservation efforts, including up to $1M in matching funds to improve infrastructure within the UC Natural Reserve System. UC Merced is working to raise funds that would allow us to take advantage of Proposition 68 and lay the groundwork for a field station. Blois is optimistic about the future of the project as well as the continued contribution of the Vernal Pool and Grassland Reserve to scientific research. In providing teaching, research, hands-on learning, and community activity space on-site, a field station "would really fill some critical gaps for the community," says Blois.