The School of Natural Sciences recently celebrated our Outstanding Student Awards during a reception on April 20, 2018. The students from each of our majors were selected by the faculty and celebrated for their academic and personal achievement. Once again, we'd like to congratulate these shining examples of excellence and student success.
Pictured from left to right: Julia Alvarez, Josue Ramirez Bonilla, Pablo Juarez, Kenny Veliz, De Zhen Zhou
Not Shown: Luis Davila, Sandeep Sanghera, and Michael Spaeth
Julia Alvarez – Biological Sciences, emphasis is Molecular & Cell Biology

Pictured with Dean Elizabeth Dumont
Julia Alvarez originally started college as a business major with a concentration in accounting. While pursuing her undergraduate degree and working as an office assistant, she also ran her own small business selling baked goods and sharing original recipes on her food blog. Julia had success with baking and her own original recipes have been featured on major editorial sites like Buzzfeed, Yahoo Food, Women's Day, and Country Living. It was not until two years into her undergraduate career that she took her first biology class and discovered a new passion and a completely new direction of her life. She took a big risk, switched her major to biology, and has not looked back since. As a Merced native, Julia is very proud to be graduating from the University of California, Merced. She plans to continue her journey in Dr. Kirk Jensen's lab, studying the molecular biology of host-pathogen interactions while earning a PhD degree in the Quantitative and Systems Biology department here at UC Merced.
Josue Ramirez Bonilla – Applied Mathematics, Economics, minor in Natural Sciences Education, Teaching

Pictured with Assistant Professor Suzanne Sindi
Josue Ramirez Bonilla is pursuing a degree in Applied Mathematical Sciences and seeking a single-subject teaching credential through the CalTeach program. He has accumulated dozens of hours working with students, primarily at the high school level. His style of teaching has been influenced by the DESCARTES program at UC Merced, which seeks to open students' and teachers' eyes to the usefulness of math and computation to learn about data. This summer, Josue plans to teach math to help low-income middle and high school students stay sharp for their future classes through a Summer Academy offered by the college-access program Next Generation Scholars. Josue too was once a student of NGS and he appreciates the great support they have offered him and other students of his predominantly immigrant community in San Rafael.
Luis Davila – Earth Systems Science, minor in Natural Sciences Education

Pictured with Associate Professor Teamrat Ghezzehei
De Pura Madre are the few words needed to describe Luis. He was born in Acapulco, Mexico, and moved to the United States more than a decade ago. Luis has been fortunate to have been raised by his grandmother and mother, and every womxn that he has met throughout his life. He has since begun to accept his non-binary identity, and persistently tries to unfold and explore those terrains. As he graduates this coming May, he is grounded in pursuing a career in bridging higher education for minority communities. Luis will be graduating from UC Merced with a bachelors degree in Earth Systems Science and a minor in Natural Science Education. During his time on campus, he was able to be a part of many organizations such as MEChA, Lambda Alliance, and Rotaract which have not only affirmed his passion for supporting students' success in education, but also have given him depth to these students' barriers.
Pablo Juarez – Biological Sciences, emphasis is Microbiology & Immunology, minor in Natural Sciences Education

Pictured with Professor Rudy Ortiz
Pablo Juarez is a first-generation college student majoring in Biological Sciences. As a MARC Scholar, UC Undergraduate Research Ambassador, member of the APS society and former CAMP fellow, Pablo has earned numerous research awards for presenting his current work on comparative physiology at conferences like: SACNAS, Experimental Biology, and ABRCMs.  Pablo will pursue a career as a Physician Scientist to contribute to the advancement of scientific innovation through research that will help further the lives of individuals, particularly those in underserved communities here in the Central Valley. He will begin his PhD in Integrative Pathobiology this coming fall at the University of California Davis and will focus his research on elucidating the molecular mechanisms that lead to the development of Autism.
Sandeep Sanghera – Chemical Sciences, emphasis in Biological Chemistry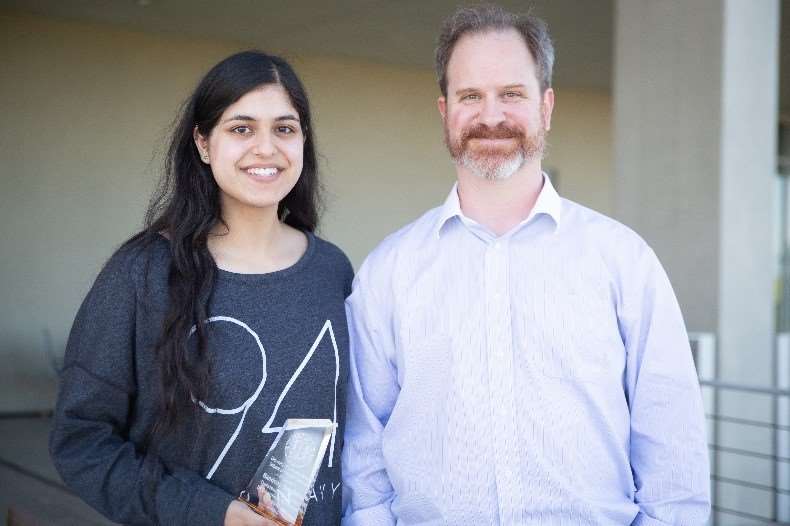 Pictured with Associate Professor Erik Menke
Sandeep Sanghera was born in Renton, Washington and moved to California in 2006. She is currently in her 4th year of study in the school of Natural Sciences at University of California, Merced. In May 2018 she will graduate with a degree in Chemistry with an emphasis in Biochemistry. Her interest in Chemistry was sparked during high school after taking a general chemistry course and realizing chemistry may be the path for her. At UC Merced, Sandeep is an undergraduate lab assistant in Dr. Fabian Filipp's systems biology research lab which focuses on the study of cancer metabolism. She is also an active member in the campus's Bhagat Puran Singh Health Initiative and Sikh Student Association clubs. After graduation, Sandeep plans to continue to pursue her goal of attending medical school and becoming a physician.
Michael Spaeth – Biological Sciences, emphasis in Ecology & Evolutionary Biology
Michael Spaeth is currently studying abroad in Costa Rica and was unavailable to accept his award in person. However, he has been described by Assistant Professor Jason Sexton as "…a truly exception student (top1%) and one of the hardest working and most dedicated individuals I have ever met. Michael is highly inquisitive, intelligent, diligent and produces top-quality work. He not only brings his enthusiasm and willingness to learn, but also acts as a catalyst in helping students to share their thoughts to the benefit of the group. Moreover, Michael is highly involved in service and community activities. He is a team player and has a personable nature that will be a great asset in his future endeavors."
Kenny Veliz – Biological Sciences, emphasis in Human Biology

Pictured with Professor Rudy Ortiz and Associate Professor Mike Cleary
Kenny Veliz is an outstanding and nontraditional undergraduate who will be graduating with his bachelors in Human Biology, and minor in Psychology, in May 2018. He entered UC Merced as a young student athlete on the Men's Basketball team and played for 3 concurrent years. After an exciting playoff run, Kenny was accepted into the undergraduate research fellowship program, Maximizing Access to Research Careers (MARC). With this news, he decided to transition his focus from basketball to research. Through this program, and under the supervision of Dr. Ortiz, he got a first-hand experience in rigorous academic biological science, resulting in a greater appreciation for research. Kenny also participated in 2 internships. One local internship at UC Merced Summer Undergraduate Research Institute (SURI), and the second internship at Summer Honor's Undergraduate Research Program, at the Brigham and Women's Hospital at Harvard Medical School. In 2017 Kenny was a recipient of the Chancellor's list award as well. Kenny believes that the collection of these experiences, has better prepared him for his future studies in graduate/medical school.
De Zhen Zhou – Physics, emphasis in Mathematical Physics
De Zhen has never regretted choosing to pursue his education as a physics major in UC Merced. He was humbled by the wonderful professors and current friends he has encountered over his four years here; their wisdom and encouragement have pushed him on the path to graduate with a bachelor's degree in physics - a goal he never expected to/or dreamed of accomplishing. De Zhen was the first in his family to attend college with little to no peers to advise him on the process. However, thanks to the support provided by the plentiful services here in UC Merced, adjusting to this unfamiliar environment became much easier. Coming from the bustling streets of San Francisco, life in Merced has taught him to enjoy the peace and quiet in this small town; and he is grateful for the welcoming community he experienced here.