Thanks to the efforts of dedicated faculty, staff and students, another cohort of local elementary, middle and high schoolers spent their summer receiving immersive, hands-on educational experiences in STEM on the UC Merced campus. Some of the many outreach programs hosted by our faculty this summer include:
American Chemical Society SEED
Funded entirely by donations, and run by volunteer mentors and coordinators, Project SEED is geared towards economically disadvantaged junior and senior year high school students who have completed a course in chemistry and are interested in science.
The program places students in academic, industrial, or government laboratories in their locale for hands-on science research and provides students with a fellowship award of $2,500 to enable them to participate full time. The students spend the summer conducting research in laboratories while being mentored by scientists, an opportunity that would not be possible without the program.
Established in 1968, ACS SEED continues to grow and thrive. According to the program, more than 350 institutions have sponsored more than 11,000 students since its inception.
UC Merced's program was founded in 2009 and is the largest program within the UC system. This year's program hosted 12 students and concluded in a poster presentation.
Professor Andy LiWang coordinates the UC Merced SEED program. "There is no other such program in the San Joaquin Valley, and this is an example of how UC Merced is fulfilling its mission to make a difference in the local community," says Liwang.
Bobcat Summer STEM Academy
Coordinated by CalTeach and launched in 2017, the Bobcat Summer STEM Academy's goal is to stimulate the interest of local middle and high school students in science, technology, engineering and mathematics disciplines and prepare them to pursue higher education. The program is funded by generous support from the City of Merced and nominal enrollment fees.
The academy offers several weeklong themed workshops for middle and high school students to choose. This year's students enrolled in workshops ranging from measuring wavelengths, learning chemistry concepts, to microbiology techniques used in biomedical research labs.
The curriculum and activities for each session are designed by science and engineering faculty. The workshops are led by undergraduate and graduate students and alumni.
NSF CREST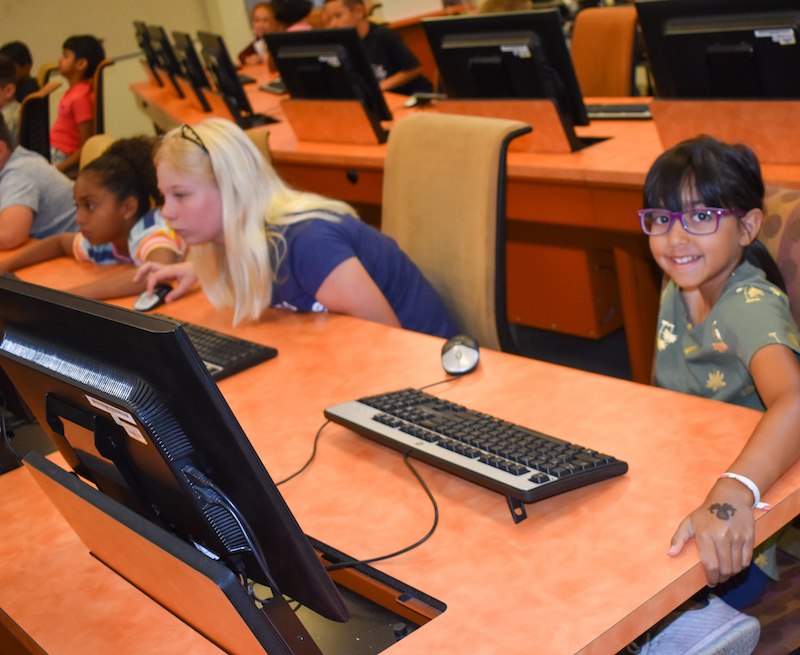 Funded by the National Science Foundation and supported by the Bobcat Summer STEM Academy, the NSF CREST Center for Cellular and Biomolecular Machines (CCBM) hosts three programs during the summer geared towards 8-12 grade students:
CREST Science and Computing Research Summer Program focuses on computer-driven science research.
CREST Science and Technology Enrichment Program focuses on the center's research and education mission in engineering, biological science, physics, chemistry and computational science.
CREST STEM Camp is aimed at increasing students' exposure to stimulating STEM topics, the practice of STEM, and how STEM benefits society.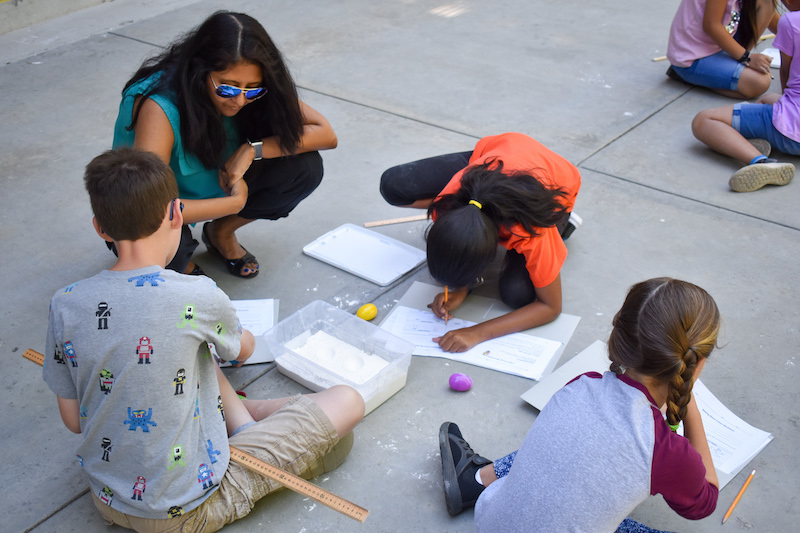 Professor Sayantani Ghosh instructs students during STEM Camp activity
These weeklong programs are free of charge and provide students with hands-on activities, lab tours, discussions, lectures and interactions with scientists and engineers. CCBM collaborates with UC Merced faculty and staff to create curriculum and activities for each program. The programs have been offered since 2017 and, according to CCBM Executive Director Carrie Kouadio, "parents provide very positive feedback on the value and benefit of the programs to their children".