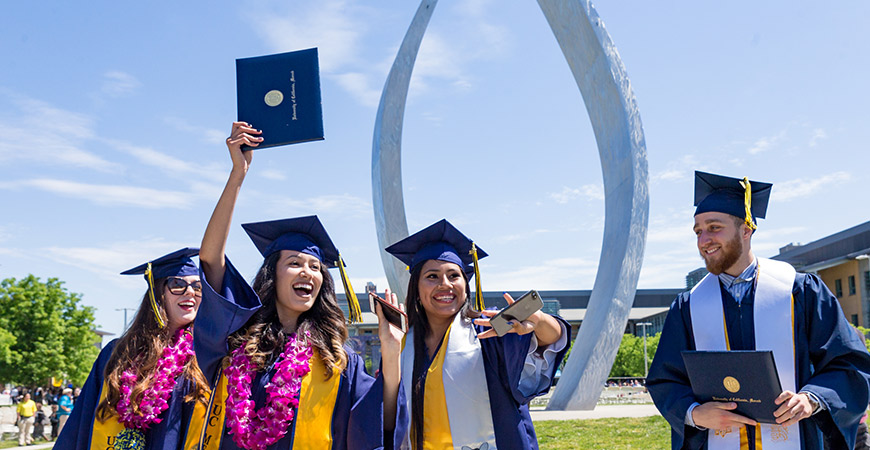 UC Merced's exuberant spring graduates got the chance to demonstrate their gratitude during the 13th Spring Commencement ceremonies this weekend as many of them paused to thank the faculty members and loved ones who helped them through their college journeys.
During the two ceremonies, UC Merced graduated more than 1,200 students, conferring 1,151 bachelor's degrees, 18 master's degrees and a record 49 doctoral degrees.
"You are all pioneers, helping us build a culture of inquiry, discovery and learning that will last for generations," Chancellor Dorothy Leland said. "You have persevered through challenges and overcome obstacles, and here you are, more prepared than ever to succeed in whatever field you choose to enter."
Leland and others also offered a special note of gratitude to the mothers among the crowd present at Sunday's ceremony.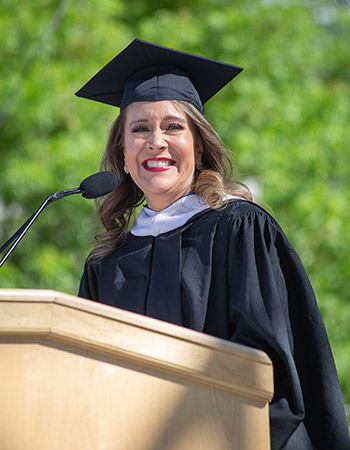 'You Preserved and Conquered'
On Saturday morning, candidates from the School of Social Sciences, Humanities and Arts were inspired by CNN political commentator Maria Cardona, who is regarded as one of the nation's top 100 most influential Latinas.
"Every single person graduating here today is poised with a distinct advantage — your education, your background, your heritage and your commitment to succeed," said Cardona, a principal at the Dewey Square Group. "You and your families have already contributed vastly to our community and our country."
Cardona shared a pivotal experience in her professional career when her former boss, U.S. Secretary of Commerce Ronald H. Brown, was killed in a 1996 plane crash in Croatia.
"This great challenge, presented to me early on in my professional career, is when I really began to see the power that I possessed by embracing all of who I was and not being afraid to step up," Cardona said.
Graduate Santana Juache represented the School of Social Sciences, Humanities and Arts as student speaker.
"You persevered and conquered everything standing in your way," said Juache, a Stockton native who received her bachelor's degree in anthropology. "So today, we celebrate your research, leadership and activism."
Since joining the campus in 2016 as a transfer student, Juache became more passionate about social justice causes. She recently earned first place at the Southwestern Anthropological Association conference for her research poster presentation looking at the barriers and dynamics first-generation transfer students face.
"We must make our mark in this world as alumni of the University of California, Merced," Juache said. "We must show the other universities that we are Bobcat strong — fierce, tested and ready for anything."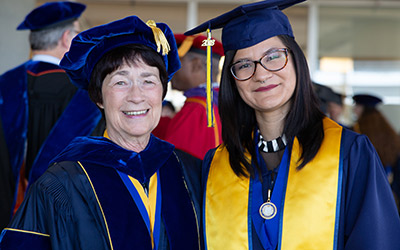 "Celebrate today, be a role model, never stop learning and, most importantly, lead," keynote speaker Lenny Mendonca told the graduates in the schools of Natural Sciences and Engineering.
Mendonca is a lecturer at Stanford Business School, managing partner of the Coastside News Group, founder of the Half Moon Bay Brewing Company and senior partner emeritus of global management consulting firm McKinsey & Company.
Mendonca, a civic leader and entrepreneur who like the majority of UC Merced's undergraduates was the first in his family to graduate from college, extended a challenge to Sunday's graduates.
"The key is knowledge, innovation and leadership — just what you are in a position to provide," Mendonca said. "The state of California put its only new UC campus in 50 years here for a reason. We need your knowledge, your passion, your energy, your leadership to make this region and the state an example for the world."
Eliezar "Eli" Vigdorchik, a mechanical engineering major from Emerald Hills in the San Francisco Bay Area, spoke at Sunday's ceremony —a surprise for his mom on Mother's Day.
Vigdorchik, who is headed to Carnegie Mellon University for graduate school in the fall, shared words of inspiration with fellow graduates.
"We have gained lifelong friendships and built connections with professors and industry," Vigdorchik said. "We have grown as students, workers and, most importantly, people."
We are proud to recognize your achievements today, confident in the knowledge that you are well positioned to become the next generation in a long line of University of California graduates who are reimagining our world.