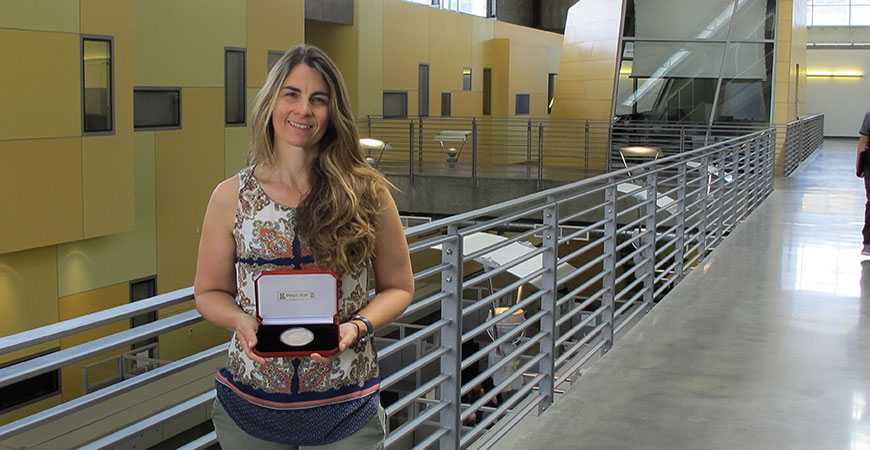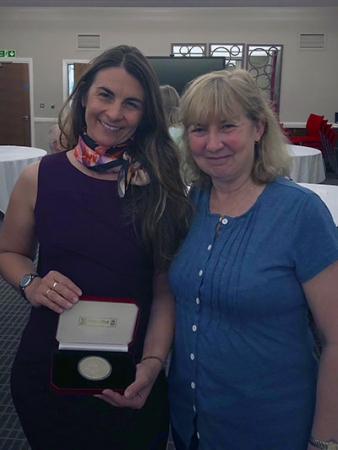 Hirst served as an executive council member for the American Physical Society, and received a National Science Foundation CAREER award and the International Liquid Crystal Society's Glenn Brown Prize. This spring, she will graduate her 10th Ph.D. student.
The awards ceremony was also an opportunity for Hirst to reconnect with her Ph.D. adviser, Professor Helen Gleeson, the first recipient of the Hilsum Award. Gleeson chairs the Department of Physics at the University of Leeds.
The Hilsum Award is not given every year. It typically goes to active, mid-career researchers in academia or industry who have made notable contributions to the subject, usually over the previous decade. It is named for Cyril Hilsum, head of the Malvern Displays Group, a pioneer in the development of liquid crystal materials and displays.
Hirst's work involves soft-matter physics and how the field applies to human health, including creating biological structures out of liquid crystals, such as molecular motors and protein filaments called microtubules. She is also developing new methods to assemble nanoparticles into three-dimensional structures using liquid crystal fluids.
"This award is a recognition of the outstanding quality of Linda's research at UC Merced, which has ranged from synthetic liquid crystals to active biological materials," said Professor Ajay Gopinathan, chair of UC Merced's Department of Physics. "She exemplifies the excellence in collaborative research in physics at UC Merced and we are very proud to have her as a member of our faculty in the Physics Department."