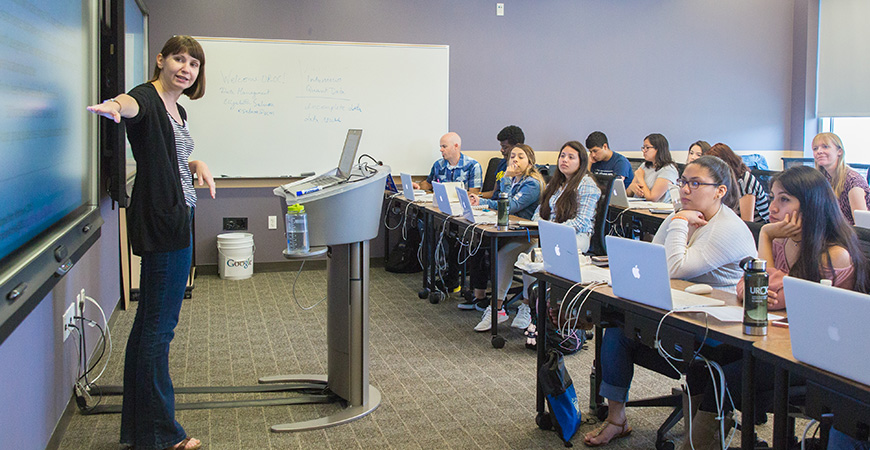 The opportunity to participate in cutting-edge scientific research as an undergraduate is one of the most exciting aspects of a UC Merced education.
One of the best preparation opportunities for graduate school is to engage in research as an undergraduate, but at many universities, it's not until you're in graduate school that you conduct research. 
While research opportunities have existed since the campus opened in 2005, the Undergraduate Research Opportunities Center (UROC) opened in spring 2014 as a hub for equipping undergraduate students with research experience, graduate school preparation and leadership development.
"Our goal is to help students become competitive when applying to graduate school and more confident to contribute their diverse perspectives in the creation of new knowledge," UROC Director Jorge Arroyo said. "Working in a research lab or group as an undergraduate is a great addition to your CV and graduate school application."
Programs under the UROC umbrella include University of California's Leadership Excellence through Advanced Degrees (UC LEADS), California Alliance for Minority Participation (CAMP), Undergraduate Research in the Humanities (UROC-H), Summer Undergraduate Research Fellowship (SURF), Summer Opportunity for Advanced Research (SOAR) Program and Department of Energy's Joint Genome Institute (JGI). Most are highly competitive and predominantly for first-generation or underrepresented students.
All UROC scholars participate in a nine-week on-campus program from June to August or an external REU program. Students are then funded to attend academic and professional conferences, present their research, and participate in programing and advising sessions to prepare and guide them through the graduate school application process.
For many students, participating in research activities through UROC enriches their undergraduate experience and prepares them for graduate study and beyond.
Stockton native Jovo Velasco finished a bachelor's degree in public health at UC Merced in May and will attend the University of Southern California's Master of Health Administration program in the fall. He received offers from five graduate programs: University of La Verne, University of Illinois-Chicago, Portland State University, Penn State and USC, and he believes his experience with the UROC had a lot to do with his success.
"UROC gave me a glimpse as what to expect from graduate school," he said. "I took advantage of what the program offered and challenged myself by designing my own research study as the primary data collector."
Velasco's research with faculty mentor Professor Denise Páyan, focused on people ages 65-90 who reside in Merced County. He asked participants about challenges they face navigating the healthcare system and social services in Merced, as well as their perceived benefits of being part of a community senior center, their perceptions of nursing homes and assisted living communities, and what services they need that are not being provided to them.
Last fall, he received the UROC-H Public Humanities Grant made possible through a diversity initiative grant from the Andrew W. Mellon Foundation. The collaborative program was developed for undergraduate student research in the humanities and is led by UROC, the School of Social Sciences, Humanities and Arts, and the Graduate Division, with additional support provided by the Center for the Humanities.
With the grant, Velasco is using his previous research results to engage the Merced community with his project.
"A huge portion of UROC is helping prepare you for grad school," Velasco said. "We had to write a personal statement, a statement of purpose and a CV. I used these essays when I submitted my grad school application."
Jeffrey Aceves is driven, dedicated, and not afraid to push his personal envelope. He was named UC Merced's Outstanding Bioengineering Student, was a finalist for the Distinguished Leadership Award, and graduated with honors in 3½ years in December 2018.
Now, the Bakersfield native is headed to Harvard University to earn his Ph.D.
As a new student at UC Merced, Aceves immediately took control of his college career. He found or made opportunities for himself, from leading other students in his residence hall as director of activities and helping found a fraternity to applying for and getting a slot in Professor Jennifer Manilay's lab, where he co-authored a paper for the Journal of Immunology.
And every time internships or fellowships presented themselves, he jumped. Aceves credits the UROC Summer Undergraduate Research Institute Fellowship and KURE, the Kidney Undergraduate Research Experience, with contributing to his success.
Starting this fall at Harvard, he'll be working with Professor Jennifer Lewis, whose lab is working on developing an artificial kidney using 3D printing.
Aceves wouldn't have known about Lewis' lab if it weren't for another UROC internship that took him to the University of Alabama at Birmingham for a summer, where he discovered that his time in Merced allowed him "hang with" students from bigger, older universities, such as Cornell.
"That is what has been such an important part of the great education I've received at the UC," Aceves said. "The research, the experiences. At any other school, I wouldn't have flourished like I have here."
After graduate school, he hopes to find a faculty position at a research university so he can be a mentor for students from underrepresented backgrounds.
Being a UC LEADS scholar gave me research opportunities at UC Merced and UC Irvine. I was able to experience a glimpse of what grad life is like.