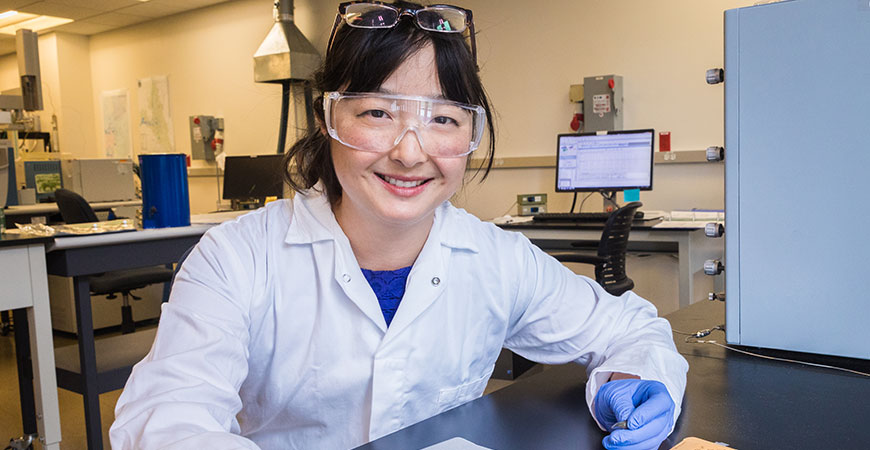 Although there has been a lot of talk this summer about paleoecology Professor Sora Kim's research on the now-extinct megalodon shark, there is another focus to her work: BAJEDI, or belonging, access, justice, equity, diversity and inclusion.
The National Science Foundation (NSF) recently awarded Kim and collaborators at UCLA and UC Davis a grant to assess and improve how and where the UC system supports women of color in the geosciences (WinG).
"In particular, women of color (WOC) are the largest group in California and projected to become the largest demographic in the United States yet are among the most poorly represented in the geosciences," Kim wrote in her proposal. "This combination of issues forms a crisis in social justice, contributes to rising inequality, and hinders creativity and innovation needed in the environmental and climate workforce."
The three-year grant allows the team to initiate the WinG Collective, a network that will provide community, belonging, access, advocacy and resources to overcome barriers to their success.
The Collective will focus first on conducting surveys and hearing about the past and present experiences of WOC in the geosciences field throughout the University of California system, including finding out what kind of mentorship, support and training they need to fill gaps and address needs. The broader leadership team includes WOC faculty members from eight of the 10 UC campuses and is interested in experiences of undergraduate and graduate students, postdocs, faculty and staff.
"We want to see what's working for WOC in the UC system and what could be improved upon," Kim said. "We are looking at the subset of women in the geosciences but in reality, it probably applies to all WOC."
The researchers will design and implement a workshop to provide professional development and a supportive community for women in the field. Kim said activities will align with and leverage existing programs, bolster mentoring and training, and explore radical change that promotes the long-term success of women of color.
The planning grant gives them $250,000 across UCs Merced, Davis and LA, but they plan to apply for a full five-year grant in 2025 and will strategize how to expand nationally if that grant is approved.
"We plan to produce a series of white papers about the issues from the department level all the way up to the system level," Kim said.
The researchers see this as a grassroots effort targeting improved retention of historically minoritized people — students and researchers alike. They also see the collective as an incubator for scientific research and collaborations, while at the same time championing agents of change with leadership ability and guiding best practices for community engagement.
There are a multitude of studies that document the inadequacies of the current academic system for people of color and proposals targeted to improve retention of historically minoritized students. This planning project is a grassroots approach to discern issues specific to WOC in the Geosciences.
"It goes all the way from supporting people from historically excluded communities to training and promoting diversity champions, so we are all working toward this goal together," Kim said.