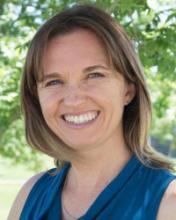 Using some of the tiniest fossils in the world to help clarify how climate change is modeled has earned Professor Jessica Blois a big honor – publication in the Proceedings of the National Academy of Sciences (PNAS).
Blois, one of the newest professors in the School of Natural Sciences, is a paleoecologist who looks at ecological and evolutionary responses to past, recent and future climate changes. She recently studied fossilized pollen in eastern North American lakes to empirically test whether space can substitute for time in climate-change predictions.
Blois's work is another example of how UC Merced researchers are adding to the ever-growing bank of knowledge about the environment and what we can expect from coming climatic changes.
Her article, written with colleagues from the University of Wisconsin, Madison, the University of Maryland Center for Environmental Science, the USGS Southwest Climate Science Center, and the Commonwealth Scientific and Industrial Research Organisation in Canberra, Australia, says that substitution can be made, though judiciously.
It gives researchers a better understanding of models' limitations, so predictions can be more accurate.
Using specific "time slices," the researchers first looked at the influence of climate on changes in plant communities across space. Then, at specific locations, they looked for the influence of climate on changes in plant communities across time, and figured out whether climate had the same influence on plant communities across space and through time.
"We looked at how climate causes changes to plant communities in eastern North America from 21,000 years ago to the present," Blois said. "The models not only tell us how the climate affects communities, but also which parts of climate are most important for explaining changes in plant communities."
Having the paper published in PNAS, she said, is very exciting.
"The National Academy of Sciences is one of the main scientific bodies in the United States," she said. The paper itself will be offered free of charge through an open-access publication so other researchers around the world can use it.
"Ideally, I'd make all of my work open-access, but anyone with a computer can always get access to my work if they email me," she said.
This has been a busy spring for Blois, who came from the University of Wisconsin and started work at UC Merced in January. She has been teaching, starting up her lab and just launched a new research project looking at individual plant and mammal species, their interactions with climate change and with each other.
She said she's particularly looking forward to conducting research in the Sierra Nevada.
"We're so close to this huge, natural lab," Blois said. "It's right there in our back yard."
Like many other members of the Sierra Nevada Research Institute, Blois's research into climate change bears a double-edged lesson:
"We are committed to a certain level of global climate change," she said. "But there's still a lot of room for us to have a say – for example, about how much carbon dioxide we pump into the air. We do have some control."
Media Contact
Senior Public Information Representative
T: 209-228-4406