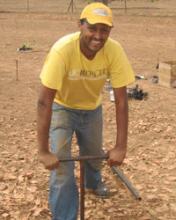 Shrubs blooming in a specific area of Africa might hold the answers to feeding millions of people on that continent, and possibly others.
UC Merced Professor Teamrat Ghezzehei, his doctoral student, Nate Bogie, and researchers from Ohio State University, Institut sénégalais de recherches agricoles (ISRA) and L'Institut de recherche pour le développement (IRD) in Senegal, are digging into the workings of two shrubs.
They want to find out why two plants native to the Sudano-Sahel region of Africa – guiera senegalensis, or Nguer, as it is called in the local language of Wolof, and piliostigma reticulatum, or Ngui guis – help the crops planted near them thrive.
The 3,400-mile-wide swath of the Sudano-Sahel covers parts of Senegal, southern Mauritania, Mali, southern Algeria, Niger, Chad, southern Sudan and Eritrea. It is bordered on the north by the Sahara, on the south by the less arid savannah, by the Atlantic Ocean on the west and the Red Sea on the east.
Soil degradation and drought stress have devastating impacts on the Sudano-Sahel, which has faced deadly famines as recently as two years ago.
"If our hypotheses are correct, hopefully we can help improve the stress tolerance of crops in the region and decrease food shortages and price hikes," Bogie said in an email from Senegal.
The work could have huge implications for solving part of the continent's famine puzzle – another way UC Merced research is affecting the world.
The guiera senegalensis shrub helps this mango tree survive the harsh Senegalese desert conditions.
About 40 years ago, Sudano-Sahel farmers noticed the success of crops planted in the sandy soil close to the Nguer and Ngui guis shrubs, compared to those planted farther away.
"It's well known there, and lots of farmers plant their crops near these shrubs," Ghezzehei said.
Researchers now want to figure out why.
"That would enable us to intelligently design how we plant and grow these shrubs," Ghezzehei said. Perhaps it will help design where to plant them, too. Nguer and Ngui guis only grow in the Sudano-Sahel area, and it's unknown if they could live elsewhere.
Bogie, who has been in Senegal all summer and will remain there until October, divides his time between two farm sites where the researchers have sown millet and peanut crops next to the shrubs. They are trying to discover whether the Nguer and Ngui guis draw more water, store more water or promote healthy bacteria that feed the other plants.
Senegalese farmers plant crops in the farm field being used for research.
Already, Bogie said, the researchers have noticed moister soil around the roots of the shrubs near the crops, and evidence that wind erosion has been reduced near the shrubs.
Over the four-year project – funded by $2.4 million from the USDA and the National Science Foundation – the researchers plan to observe three growing seasons, monitoring everything that could affect the crops' growth, including rain and soil drainage.
Using special isotopically-charged water that can be tracked will give them a clear picture of what's going on underground, too, as will measuring the crops' moisture-stress levels to see whether the shrubs act as stress relievers.
Being able to use the shrubs to enhance crop growth could help relieve famines like the one in 2010 that put more than 1.2 million people at risk. That famine turned deadly when Nigerian crops failed to mature. Diarrhea, dehydration, starvation, gastroenteritis, malnutrition, and respiratory diseases sickened and killed many children and some adults.The Ohio State researchers are examining the microbiology of the shrubs. Though Ghezzehei is on campus teaching sustainability science, he will travel to Senegal at least once a year, and has weekly meetings with Bogie via their computers. They are also working on a way to download up-to-the-minute research data over the phone directly from the sensor boxes in the Senegalese fields to UC Merced.
He doesn't worry a bit about leaving Bogie there without him.
"If I could design a student, I couldn't make one as good as Nate," he said. A project like this, Ghezzehei said, gives students an opportunity to expand their research horizons outside the United States.
Bogie, who had previously lived and worked in France and Tunisia, had an advantage in moving to Senegal for this project because he knew what living in a different culture would be like.
"Going abroad is a great experience, and you never know when it will help you," Ghezzehei said. Bogie rents an apartment in one town and has lab space at a local university. He has formed relationships with the local researchers helping with the project, as well as residents and the farmers who rent land for the research.
"This kind of research is hard," Ghezzehei said, "because not only are you away from home, you have to plan everything down to the last detail, including what to pack, because what you have is what you have."
"A good mantra for me is to be ready for anything," Bogie said.