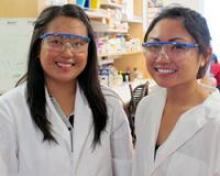 Two UC Merced undergraduates will spend the summer immersed in research after winning prestigious fellowships from the American Physiological Society.
Sophomores Debby Lee and Meagan Moreno competed on a national level for the 10-week, $4,000 fellowships that will support them during their first biomedical research experience. Both already have begun some preliminary work in the campus lab of Rudy M. Ortiz, an associate professor of physiology and nutrition.
Having two UC Merced undergraduates land APS fellowships for the same term is unusual.
"I've never heard of one lab get two awards before," Ortiz said. "That makes it a little bit more exclusive."
Lee, a biological sciences major from Wilton, will study elephant seals as a model to analyze the effect of prolonged food deprivation on insulin signaling as it relates to metabolic perturbations. Her APS fellowship targets undergraduates with little or no research experience.
Lee said she was surprised and honored to be chosen for the fellowship program. She is considering medical school, possibly through the UC Merced San Joaquin Valley Program in Medical Education. She is interested in a surgical practice but also would like to continue research work.
"It would be a great honor to serve the San Joaquin Valley," Lee said.
Moreno, a biological sciences major from San Jose, will focus her research on cardiovascular and renal diseases as they relate to metabolic disorders. Her APS fellowship is designed to encourage students from underrepresented groups to pursue research careers in biomedical sciences.
"I ran to the library to tell my friends that I got it," said Moreno, who plans to attend medical school somewhere in California. "I'm really excited to do this."
Both Moreno and Lee believe they've had access to more opportunities at UC Merced than they might have had at another university. Ortiz said those opportunities include campus-funded programs for undergraduates and other prospects beyond the APS fellowships.
The two students also agree that UC Merced was their best choice for college. Moreno said the campus environment has helped keep her focused on academics and preparing for medical school.
"I tell my parents every day that I'm glad I chose UC Merced," she said.
Lee said she decided to apply to UC Merced after meeting Ortiz during her senior year of high school. He was the keynote speaker at a symposium that she attended at UC Davis.
"Dr. Ortiz really inspired me to do research," Lee said. Her college decision was even easier after a visit to the UC Merced campus.
"The campus was small but the opportunities were big," she said. "I really love it here."
Media Contact
Director of News and Social Media
T: 209-228-4408