February 23, 2017 -

2:30am

to

4:00am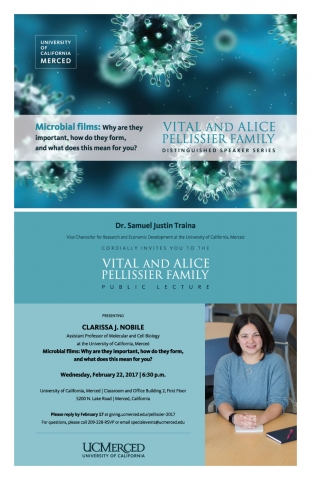 Clarissa J. Nobile is a microbiologist and a professor of molecular and cell biology at the University of California, Merced. She is also co-founder and chief executive officer of BioSynesis, Inc., a Bay Area startup company that works to establish biofilm-specific diagnostics and therapeutics to detect and treat recalcitrant hospital infections.
Before joining the UC Merced faculty, Nobile undertook her postdoctoral studies at the University of California, San Francisco, and earned her doctoral degree in microbiology with distinction from Columbia University. Nobile's research is directed toward understanding the molecular and mechanistic basis of microbial communities. Her work has been published extensively and she is the recipient of numerous scientific awards, including from the American Society for Microbiology and the Genetics Society of America.
In 2015, she was selected as a Pew Biomedical Scholar, a recognition given annually by The Pew Charitable Trusts to 20 outstanding biomedical researchers for their seminal research contributions to human health.
Studies of microorganisms have largely been carried out in free-floating (planktonic) cultures; however, the environmental and medical impacts of most microorganisms depend on their abilities to form resilient surface-associated communities called biofilms.
Biofilms are the predominant growth state of most microorganisms on biotic and abiotic surfaces. In this talk we will learn about what biofilms really are, why they are important, and how they form. She will also discuss her lab's newest discoveries on one particular type of biofilm formed by the most common human fungal commensal and pathogen, Candida albicans.
For more information about the event, as well as to registrer for the event visit: https://bit.ly/2lwylXp.
Location
Classroom and Office Building 2, Room 110
Development and Alumni Relations