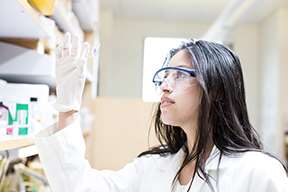 A Solid Foundation to Build Upon
Students in the School of Natural Sciences have a freshman year that lays the foundation for further study in the majors. As a freshman, you will have the opportunity to explore a wide range of available majors through freshman seminars, research experiences and informal contact with faculty and graduate students. Though not required, we strongly recommend freshman seminars for all first-year students. Taking a freshman seminar course and participating in research experiences puts you in close contact with faculty and positions you for greater academic success now and in the future.
Discovering A Major
The School of Natural Sciences provides majors in life and physical sciences that engage students in their academic discovery at the university. Majors in the School of Natural Sciences have lower and upper division courses and emphasis track requirements unique to each major. Along with specific major and emphasis requirements, there are University, Campuswide, and School of Natural Sciences requirements that must be completed.
The School of Natural Sciences offer the following majors:
Sample Plan of Courses by Major
• Bachelor of Science, Biological Sciences
Emphasis: Human Biology
More information is coming....
---
Explore the opportunities at UC Merced
Take a virtual tour of the campus here and explore the opportunities at UC Merced.
The UC Merced campus is celebrating 10 years of excellence. Find out more here.
The Science, Technology, Engineering, and Mathematics (STEM) Resource Center is a space on-campus that all students can utilize for tutoring in STEM-related courses by peers that have successfully passed those courses, as well as learn about research opportunities available for undergraduate students both on-campus and across the country.
---
Apply Yourself
Admission to UC Merced requires preparation and attention to detail. The application period for fall admission is the preceding November. Applications may be submitted online between Nov. 1 and Nov. 30. However, it's never too early to plan your application and to work on your statement. Visit the Admissions website for more information on freshman application requirements.